Integrating artificial intelligence, argumentation and game theory to develop an online dispute resolution environment
From AcaWiki
Citation: E. Bellucci, A.R. Lodder, J. Zeleznikow (2004) Integrating artificial intelligence, argumentation and game theory to develop an online dispute resolution environment. 16th IEEE International Conference on Tools with Artificial Intelligence, 2004. ICTAI 2004. (RSS)
DOI (original publisher): 10.1109/ICTAI.2004.75
Semantic Scholar (metadata): 10.1109/ICTAI.2004.75
Sci-Hub (fulltext): 10.1109/ICTAI.2004.75
Internet Archive Scholar (search for fulltext): Integrating artificial intelligence, argumentation and game theory to develop an online dispute resolution environment
Tagged: Computer Science (RSS) argumentation (RSS), computer-supported argumentation (RSS), dialogue games (RSS), dispute resolution (RSS), conversation visualization (RSS), negotiation support systems (RSS)
Summary
This paper presents two tools, DiaLaw and Family-Winner; an integration of the two is proposed in Lodder, A. R. and Zeleznikow, J. (2005). Developing an online dispute resolution environment: Dialogue tools and negotiation systems in a three step model, Harvard Negotiation Law Review.
Dialogue is seen as a precursor to negotiation, motivating the integration of the two tools.
DiaLaw
DiaLaw is a two-player dialogue game for dispute-resolution. The system uses natural language, and is essentially a conversation visualization tool.
There are three types of statements:
Issues
Supporting statements (supporting one's own argument)
Responding statements (responding to others' arguments)
This presents a visualization, by indenting supporting statements below an issue and placing responding statements to the right of the statement to which they respond.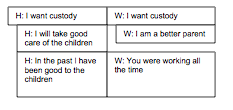 To allow merging with negotiation support systems, it is also possible for a player to press the "OK-button" to indicate that agreement has been reached.
Family-Winner
Family-Winner uses Principled Negotiation "in which decision-making is supported by trade-off and compensation strategies". It presents graphical trade-off maps which "illustrate the relevant issues, their importance to each party and the trade-off capabilities of each issue."
It has an interative process, where users are asked if the issues can be resolved as presented. If not, users are asked to decompose the least contentious issue into sub-issues.
When users decide that no more subproblems can be found, the system determines "which issue to allocate to each party" and adjusts the remaining issues, so that the person who didn't get what they wanted is 'compensated' by more choice in other issues.
Theoretical and Practical Relevance
The motivation is reducing unnecessary court cases by providing information about what outcomes are likely (e.g. BANTA - Know your best alternative to a negotiated agreement). This is a general motivation for negotiation support systems.