A computational model of argumentation in everyday conversation: A problem-centred approach
From AcaWiki

Citation: Jean-Louis Dessalles (2008) A computational model of argumentation in everyday conversation: A problem-centred approach. Proceeding of the 2008 conference on Computational Models of Argument: Proceedings of COMMA 2008 (RSS)
Download: http://www.enst.fr/~jld/papiers/pap.conv/Dessalles_07111264.pdf
Tagged: argumentation (RSS), informal argumentation (RSS), state-change diagrams (RSS), dialogue (RSS), speech act theory (RSS)
---
Summary:
The paper presents an argument generation procedure, which was implemented in Prolog. The computer program "is able to produce the same arguments as those observed in a variety of real dialogues, using a small number of steps."
Argumentation is a large part of conversation. This paper uses a corpus of 17 hours of family conversation, which breaks down as follows:
Conversation: 60% Conversation (inaudible): 13% Other (child screaming, songs): 5% Utilitarian (mainly negotiation about food offer): 11% Empty: 11%
The audible conversation (60% of the total corpus) breaks down as follows: 74% argumentative discussions 19% narratives 7% immediate events (see Table 1)
However, the paper does not define these items or explain how they were distinguished.
Then it proposes a human argumentation model (Figure 1), which supposes that arguments are local, taking a "knowledge-to-argument" (K2A) approach (see On the acceptability of arguments and its fundamental role in nonmonotonic reasoning, logic programming and n-person games).
Argumentation generation
Figure 1 presents the argument generation procedure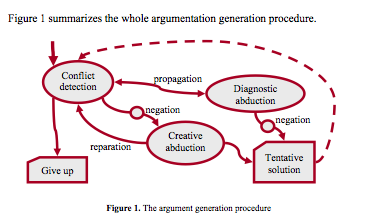 Cognitive conflicts provoke the construction of arguments. A cognitive conflict is when a proposition is seen both positively and negatively (or in Dessalles terminology, has opposite 'strengths'). People form hunches (here referred to by the technical term, 'abduction'.
The model distinguishes diagnostic abduction--based on observation--from creative abduction; more clarity of this distinction would be useful.
Theoretical and practical relevance:
Such a program might be useful for generating FAQ argument trees for online conversations; the program and further details of the procedure are not publicly available in any obvious place, but one could check with the author for more details.